Aqila Products
You will need a Smart Security Kit to get started and add on additional devices to completely customize Aqila to your home.

Not sure what you need? Answer a few questions here to build a system that fits your needs
array(7) {
  [0]=>
  object(WP_Term)#7846 (10) {
    ["term_id"]=>
    int(59)
    ["name"]=>
    string(23) "Starter Kit - Securehub"
    ["slug"]=>
    string(21) "starter-kit-securehub"
    ["term_group"]=>
    int(0)
    ["term_taxonomy_id"]=>
    int(59)
    ["taxonomy"]=>
    string(11) "product_cat"
    ["description"]=>
    string(0) ""
    ["parent"]=>
    int(0)
    ["count"]=>
    int(2)
    ["filter"]=>
    string(3) "raw"
  }
  [1]=>
  object(WP_Term)#7874 (10) {
    ["term_id"]=>
    int(48)
    ["name"]=>
    string(6) "Sensor"
    ["slug"]=>
    string(6) "sensor"
    ["term_group"]=>
    int(0)
    ["term_taxonomy_id"]=>
    int(48)
    ["taxonomy"]=>
    string(11) "product_cat"
    ["description"]=>
    string(0) ""
    ["parent"]=>
    int(0)
    ["count"]=>
    int(6)
    ["filter"]=>
    string(3) "raw"
  }
  [2]=>
  object(WP_Term)#7870 (10) {
    ["term_id"]=>
    int(51)
    ["name"]=>
    string(5) "Siren"
    ["slug"]=>
    string(5) "siren"
    ["term_group"]=>
    int(0)
    ["term_taxonomy_id"]=>
    int(51)
    ["taxonomy"]=>
    string(11) "product_cat"
    ["description"]=>
    string(0) ""
    ["parent"]=>
    int(0)
    ["count"]=>
    int(3)
    ["filter"]=>
    string(3) "raw"
  }
  [3]=>
  object(WP_Term)#7865 (10) {
    ["term_id"]=>
    int(169)
    ["name"]=>
    string(6) "Camera"
    ["slug"]=>
    string(6) "camera"
    ["term_group"]=>
    int(0)
    ["term_taxonomy_id"]=>
    int(119)
    ["taxonomy"]=>
    string(11) "product_cat"
    ["description"]=>
    string(0) ""
    ["parent"]=>
    int(0)
    ["count"]=>
    int(2)
    ["filter"]=>
    string(3) "raw"
  }
  [4]=>
  object(WP_Term)#7872 (10) {
    ["term_id"]=>
    int(49)
    ["name"]=>
    string(14) "Remote Control"
    ["slug"]=>
    string(14) "remote-control"
    ["term_group"]=>
    int(0)
    ["term_taxonomy_id"]=>
    int(49)
    ["taxonomy"]=>
    string(11) "product_cat"
    ["description"]=>
    string(0) ""
    ["parent"]=>
    int(0)
    ["count"]=>
    int(2)
    ["filter"]=>
    string(3) "raw"
  }
  [5]=>
  object(WP_Term)#7875 (10) {
    ["term_id"]=>
    int(193)
    ["name"]=>
    string(7) "Signage"
    ["slug"]=>
    string(13) "aqila-signage"
    ["term_group"]=>
    int(0)
    ["term_taxonomy_id"]=>
    int(143)
    ["taxonomy"]=>
    string(11) "product_cat"
    ["description"]=>
    string(0) ""
    ["parent"]=>
    int(0)
    ["count"]=>
    int(1)
    ["filter"]=>
    string(3) "raw"
  }
  [6]=>
  object(WP_Term)#7873 (10) {
    ["term_id"]=>
    int(521)
    ["name"]=>
    string(21) "Installation Services"
    ["slug"]=>
    string(21) "installation-services"
    ["term_group"]=>
    int(0)
    ["term_taxonomy_id"]=>
    int(471)
    ["taxonomy"]=>
    string(11) "product_cat"
    ["description"]=>
    string(0) ""
    ["parent"]=>
    int(0)
    ["count"]=>
    int(1)
    ["filter"]=>
    string(3) "raw"
  }
}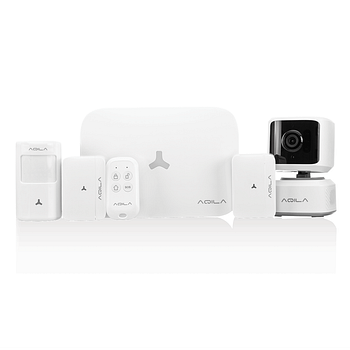 Aqila Starter Kit
The Foundation of Your Smart, Secure Home.
We've re-imagined everything around what a home security experience should be and created something that is remarkably simple to setup and easy to use. Build your own system to fit your home by easily adding devices only as needed. Simplified smart home security starts from this starter kit.
What's inside Aqila Smart Security Kit : 1 x Aqila Securehub™ | 2 x Door and Window Sensors | 1 x Motion Sensor | 1 x Remote Control | 1 x Aqila Qubecam | Free : 1 Aqila Security.